Teresa Bevin has published a wide variety of works including children's and adult fiction, college-level text books on counseling and psychology as well as literary articles on Cuban writers. Her collection of short stories Dreams and Other Ailments / Sueños y otros achaques and her children's novel Tina Springs into Summer / Tina se lanza al verano, are bilingual editions, published in both English and Spanish in the same volume.
Teresa Bevin is the recipient of several literary awards and honors and is a regular guest speaker at literary events throughout the country.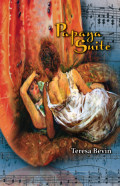 Ms. Bevin is pleased to announce the publication of her latest novel, Papaya Suite, written in English, (ISBN: 978-0-9819303-0-5, La Gota de Agua Press), released in May 2011.
Read an excerpt from Papaya Suite.

Browse Teresa's booklist: