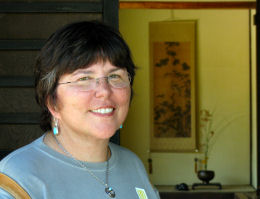 Teresa Bevin was born in the city of Camagüey, Cuba, a region known for cattle raising and sugar production. At the age of 18 she was sent to Spain to wait out her visa approval into the U.S. After three years of working and growing up quickly and independent of family, she came to the States, joining her younger brother--a minor who had emigrated through Mexico and was living with relatives. Relishing her hard-learned independence, Teresa and her brother took a small apartment in Washington, DC from which they launched their new life in their new country.

Teresa simultaneously worked and studied, eventually earning Masters degrees in Education and Speech and Hearing Pathology. She supported herself through a variety of jobs -- office cleaner, window washer, singer, astrologer, detective, secretary, translator, teacher, counselor and everything legal in between. She reveled in the opportunities her adopted country had to offer, but never lost touch with her roots.

"At one time I might have said 'I have two hearts -- one the U.S. and the other Cuba.' That was before I understood my own nature and being," she explains. "Now I know that I have one heart and that both countries are a part of it -- one I chose and the other chose me. Each has contributed to my being, my essence and I rejoice and savor what both worlds have given and continue to give to me. I had to leave Cuba, but Cuba will never leave me. But I would not trade places with anyone -- my life is too delicious!"

A return to Cuba in 1991, after an absence of twenty years, prompted the writing of Teresa's first novel, Havana Split, which has become a textbook for many Latin-American study programs and was named one of the top 10 "Summer Reads" by the Miami Herald newspaper. Prior to the publication of Havana Split, her writing credits included an award as one of the top three finalists in a Spanish writing competition sponsored by Linden Lane literary magazine, and publication of the short story "La vieja del globo." She also was, and continues to be, a contributing author to textbooks for practitioners of psychotherapy.

Published in 2001, Dreams and Other Ailments/Sueños y otros achaques is a bilingual (Spanish/English) collection of short stories, for which she was her own translator. In 2005 Teresa published a bilingual children's book, Tina Springs into Summer / Tina se lanza al verano. The textbook, An Interdisciplinary Introduction to Women's Studies, edited by Brianne Friel & Robert L. Giron (Gival Press, 2005) to which Teresa contributed, received the 2005 DIY Book Festival Award for Compilations/ Anthologies.

Prior to moving to Santa Fe, New Mexico, Teresa was a professor of all levels of Spanish and an instructor of psychology, group dynamics, counseling techniques, and activity therapies at Montgomery College in Takoma Park, Maryland. In addition to her writing activities and private counseling services, Teresa is also involved working with Spanish and English speaking families at a local crisis shelter. She is a guest speaker at professional community gatherings and has conducted Spanish courses and seminars in cultural awareness for government employees and other groups.
---