"Speaking through the voice of an 11-year-old bi-racial girl who confides in her new diary, the book offers rich opportunities for class reading, creative writing, and discussions. This will surely prove to be a favorite book among both teachers and children because it captures children's interest and offers stimulating topics for classroom discussion. I suspect that many children will want to keep and re-read the book, since it speaks directly to their age-related life issues."
- Dr. Nancy Boyd Webb, Distinguished Professor of Social Work, Fordham University; author,
Play Therapy for Children in Crisis
and
Mass Trauma and Violence
Click here to order a copy of "Tina..."

Is fun to read


Is about all kinds of modern kids


Is printed in Spanish & English on opposing pages


Is fun to discuss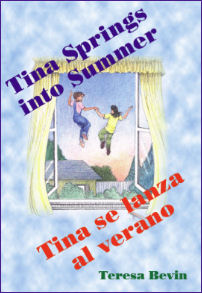 Tina Springs into Summer / Tina se lanza al verano, written in both Spanish and English, is a book that I believe will contribute to children's enjoyment and learning by being read and discussed in either or both languages within the same classroom. A classroom of children from different language backgrounds can be a frightening specter for some and a resentful bore for others. Part of my purpose in writing this book is to reduce that tension and to optimize the educational experience for each language group.

Targeted at the middle grades, the story centers around Tina, an 11-year-old girl who lives in a multi-ethnic, middle-class city neighborhood. She is biracial and bilingual, and her friends come from a mix of cultures found in many modern urban communities. The story itself reflects the situation of the students who read it. The subject matter is current, timely and occasionally humorous, and should hold the interest of children of varying ages. - Teresa Bevin, Author

---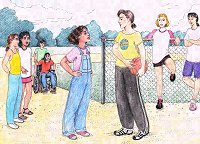 Tina Springs into Summer / Tina se lanza al verano, escrito en inglés y español, es un libro que ha de contribuir al disfrute de la lectura cuando se realiza en cualquiera o en ambas lenguas dentro de una misma clase. Una clase llena de niños de diferentes culturas y lenguas puede resultar intimidante para unos y aburrida para otros. Parte de mi propósito al lanzar este libro es reducir esa tensión y aumentar la experiencia educativa para cada grupo. El relato se centra en una niña bi-racial y bilingüe de 11 años que vive en un vecindario multi-étnico de clase media como tantos otros en comunidades urbanas.
El relato refleja las situaciones cotidianas de muchos de los niños que han de leerlo. El tema es contemporáneo y lleno de humor, y ha de mantener el interés de niños de varias edades.
- Teresa Bevin, Autora

Illustrations ©2005 Perfecto Rodriguez
In her bilingual rendering of Tina's adventures, Bevin gives us the
"…ageless voice of girls at that wonderful age, right before adolescence, when they are powerful, curious, and believe in themselves..."
- Pilar Torres, President, Centro Familia of Silver Spring, Maryland