A Note From the Publisher:
"Teresa Bevin writes as if composing a musical suite intended to be performed at banquet that she, herself, has prepared for the enjoyment of all her guests. And there is no holding back. Absolutely no reservations or excuses! Although the ingredients of her cooking are by no means unfamiliar, they are treated with a Creole (Cuban style) sense of rhythm and a rendering that is bound to surprise conventional tastes."
Just Released - April 2011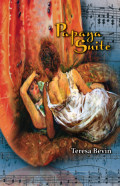 Adventure is not limited to men or extreme sports. Adventure can be a daydream, a walk down the street or a series of life experiences. A heroine does not have to perform extraordinary feats of strength or courage.
Papaya Suite is a book about a woman's adventures from adolescent self-discovery to the self-realization of adulthood. Its hero, Celeste, personifies the headstrong young adult who follows her dreams, ignoring failures and building on successes -- in essence, almost romping through life. It is a light-hearted accounting of a young woman who, although growing up during the early years of the Cuban revolution, explores her attraction to other young women. Recognizing that their daughter's inclinations were not accepted by the Revolution, her parents send her to Spain for her safety. There her exploration of life begins in earnest and continues to expand when she moves to the United States.

OPEN INVITATION FROM TERESA

On Sunday, June 26, 2011,Teresa Bevin will host the official launch of her latest book, "Papaya Suite." Ten percent of the sales for that day will be donated to Esperanza Shelter for Battered Families, where Teresa works as Coordinator of Counseling Services. The signing will be held at the Kinship Building, 1264-B Rodeo Rd., Santa Fe, NM 87505, from 2:00 – 4:00 pm. "My work with Esperanza is more than just a nine-to-five job," says Bevin. "I believe that the services provided by Esperanza give critical assistance to many compromised men, women and children, and I am glad to help in whatever way possible."
Teresa will read from and sign copies of "Papaya Suite." Copies of her other publications will also be available at this event. She encourages you to attend. In addition to donating a portion of the proceeds from her books sales on that day, monetary donations to Esperanza Shelter will be accepted.
CLICK HERE FOR DIRECTIONS TO THE BOOK SIGNING

Read an excerpt: Chapter 2: La Pegajosa, Pinar del Rio, 1968

Papaya Suite is published by La Gota de Agua Press.
ISBN: 9780981930306
Click Here to Purchase a Copy of Papaya Suite
---

Browse Teresa's booklist: