Sunday, February 1, 2004 - After taking a week off to recuperate from the cold that I caught in Cuba; from the cold weather in Maryland; to prepare my classes for the new semester; and to review the photos I took during my sojourn in Camagüey, I'm ready to write.
While I was in Camagüey, I was able to keep a happy disposition in front of my relatives and friends at all times, when in truth I was somewhat shocked by much of what I saw: The appalling contrasts between what was available for tourists and Cubans who had access to American dollars, and what was available for everyone else in Cuba. Most Cubans walk or ride bicycles (which I call "equal opportunity transportation"). The woman who drove the Cubanito taxi in which I rode is a physicist. A friend of mine, a plastic surgeon, books art shows for tourists.
Though few verbalize their desperation, I was amazed to find out that most are taking medicine for anxiety or depression. To the Cubans, their visitors are oases in the desert. Late one night, my cousin Adriana came to the apartment where I was staying. She was in tears, and said that they just took her 2-month old granddaughter to the hospital because she would not stop vomiting. She came to see me because, she said, "you give me energy and I will feel better." Adriana was caught in an emotional bind: hospitals no longer could be trusted except as a last resort -- nothing was sterile, many necessary medicines were not available, and facilities were deteriorating. Doctors recommended patients leave as soon as possible. I was grateful that I was able to soothe Adriana, and that the baby was back at home in a few hours.
There is a clinic for tourists and Cubans with dollars across the plaza. It is clean, sterile and well-stocked with medicines and medical devices. Most Cubans cannot afford their aspirin.
---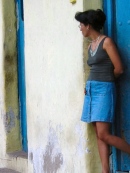 Cuban woman in doorway


Many homes in Camagüey
are in drastic need of
repair, but materials
are not available.